Part Material:
PE, PVC ABS, PC, PP, POM, PA6( PA66, Gf Filled), P
Product:
Household Appliance
Mould Cavity:
Single Cavity, Multi Cavity
Mould Steel:
P20, H13, 718h, Nak80, S136, 2311, 2344, 8407
Mould Runner:
Cold or Yudo Runner
Design & Program Soft Wares:
CAD/Cam/Cae, Ug, Proe, Powemill, Solid Works etc
Mould Life:
0.3 Million to 2 Million Shots
Lead Time:
25-45 Working Days
Mould Base:
Lkm, Hasco, Dme, etc.
Transport Package:
Bubble, Foam, Carton, Plastic Box, Wooden Case
containing box Sourcing Plastic storage Box Injection Mould Supplier From China


Longxiang Introduction

Longxiang Group Limited was established in Guangzhou city in 1998. After over 15 years of hard work, Longxiang has grown to be one of the highest reputable mould maker in China with 120 employees' 5000 sq. Meter working shop.

Up to now, Longxiang has exported about 2400 sets of moulds to 38 countries. The moulds we made include automotiveparts (dashboards, inner decorating accessories, etc.), electrical appliances (washing machine, air conditioner,refrigerator, television, etc.), IT industry products (cell phones, computer, etc.), householder products(micro-wave oven, juicer, etc.), office accessories (telephone, printer, etc.) as well as other various of products.

We look forward to participating at the success of your next project.

Working shop 



Mold Specification
Mold Material
45#,P20 steel, 718, 2738, H13, 
NAK80, 2344, 2343, S136, etc .
Mold Type
Plastic Injection Molding
Product Material
ABS,PA,PA66+GF,POM,PC,PP,PET,TPE,PVC,HDPE,etc
Mold Standard
HASCO, DME, MISUMI, JIS, LKM, etc.
Mold Tooling Equipment
Lathe,Milling,Grinder,Drill,CNC,EDM,
Wire cut machine,Punch machine
Injection Mold Machine
80T to 2800T
Product Weight
50-20000g
GateType
Side Gate, Sub Gate, Direct Gate, 
Hook Gate, Pin Point Gate, etc.
Runner Type
Cold Runner or Hot Runner
Cavity
Single or Multi cavities
Treatment
Heat treatment and Nitriding,polish ect.
Mold Life
45#:50,000 to 100,000 shots
P20:100,000 to 200,000 shots
718: 200,000 to 300,000 shots
H13: 300,000 to 500,000 shots
Lead Time
Generally mold making will take around 30 days 
7-10  day to mass production 
Package
Wooden packing box for molds 
inner packed in opp bags, 
outside packed in standard export carton 
How to develop the Garbage Bin?
We have rich experience to make garbage bin mold, with100% make sure solve the core offset and uneven wall thickness problem.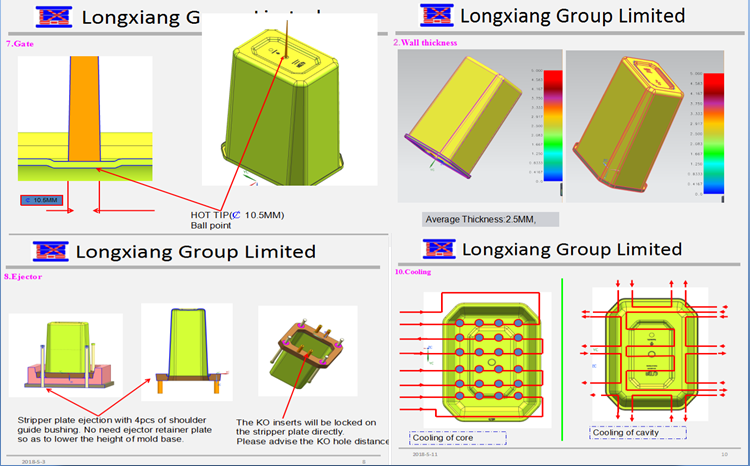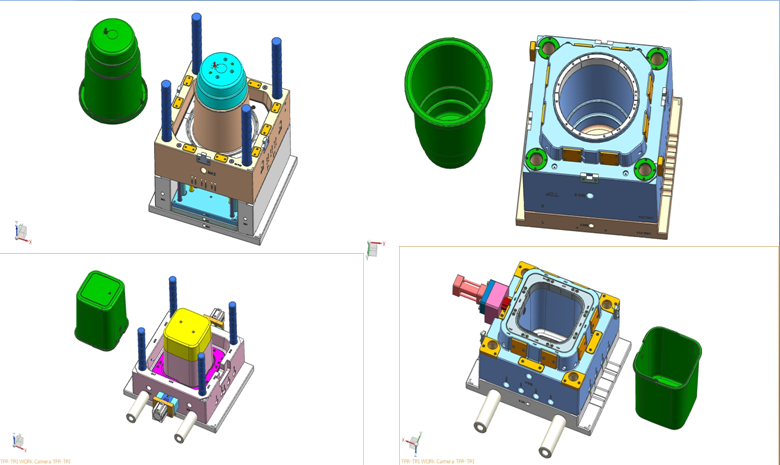 Material Specification
Material type
Abbr
Description and typical applications
Acrylonitrile Butadiene Styrene
ABS
Opaque &Â tough /Â Phones &Â computers
Polypropylene
PP
Opaque &Â tough /Â Beer crates
Polystyrene
PS
Clear &Â Brittle /Â Toys &Â model kits
Polystyrene High Impact
HIPS
Opaque &Â tough /Â Toys &Â model kits
Acetyl
POM
Natural &Â very tough /Â Gears &Â bearings
Polycarbonate
PC
Clear and very tough /Â Street lamp covers &Â safety
helmets
Plasticized Polyvinylchloride
PVC
Opaque &Â flexible /Â Shoe soles &Â electrical insulation
Polyamide 6
PA6
Opaque &Â very tough /Â Bushes, bearings &Â curtain
fittings
Polyamide 6.6
PA6.6
Opaque, tough and rigid /Â Housings &Â handles
Polyamide 12
PA12
Opaque tough &Â rigid /Â Air filters &Â spectacle frames
Polyethylene low density
LDPE
Waxy tough &Â flexible /Â Kitchenware &Â sealing lids
Polyethylene high density
HDPE
Waxy tough &Â stiff /Â Crates &Â chair seats
Thermoplastic Elastomer
TPEÂ 
Flexible &Â tough /Â Seals &Â washers
Thermoplastic Rubber
TPR
Flexible &Â tough /Â Seals &Â washers
Acrylic
PMMA
Transparent &Â Brittle /Â Lenses &Â car lights &Display
Polystyrene General Purpose
GPPS
Clear &Â brittle /Â Ball point pen barrels
Polyphenylene Sulphide
PPS
Brown &Â very strong /Â Guides &Â bearings
Polyphenylene Oxide
PPO
Tough &Â stable /Â Electrical parts
Rigid Polyvinyl Chloride
UPVC
Opaque &Â tough /Â Fascia fittings &Â guttering
Styrene Acrylonitrile
SAN /Â AS
Clear &Â brittle /Â Table &Â picnic ware
Polyether Sulphone
PES
Clear &Â tough /Â Metal replacement parts
Cellulose Acetate
CA
Clear &Â tough /Â Spectacle frames

Garbage Can Molds & Injection Molding





Our team




Tooling Developing Procedure:

Quotation: We need your require clearly
Negotiation: Material, cavity, price, delivery time, payment term, etc.
Order: According your own design or choice our design
DFMEA: Deign failure mold &Â Effect analysis to reduce risk
Mold design:Â Â 2D/3D drawing
Cutting Tooling Notice: After customer approve the mould design will start making mould
Weekly Report: We will update the mold schedule every week
Sample Confirm: Send you sample for conform it, if not satisfied by customer. We modify mould.
Delivery Mold: Delivery mould after customer approve sample and arrange shipment
 

 FAQ
1. Q: Which kind of product can you do?
     A: Plastic injection molding and mass production for plastic parts.
2.  Q: Which kind information need for quotation?
      A: 1) Sample photo with size or 2D/3D design
           2) Product material
           3) The quantity
           4) Runner type, cold or hot
           5) Mould steel type, P20, 718, 2738, H13, S136, 2316, an so on.
3.  Q: I have no 3D drawing, how should I start the new project?
      A: You can supply us a sample or tell me your idea,we will help to finish the  3D drawing design.
4. Q: How long will be the injection mold finished?
     A: Usually it will take about one month to finish the mold.
5. Q: How about the samples?
     A: After mold finished, We will make some samples for you to check as soon as we finish the mold and then deliver  the samples for you to check.
6. Q: How about the mould modify?
     A: You can tell us your comment about the samples after you receive them.If there is any dimension different from the drawing,we will modify the mold for free in our side and then make the new samples.
7. Q: How about the proprietary rights of the plastic injection mold?
      A: Customer paid the mould so it all belong to Customer.
8. Q: How about the surface treatment?
    A: Metallization (chrome, gold, silver) / Painting (hand, screen, automated) /Vacuum plating / Lithography
         / Custom texturing/ Hydrographics

Why Choose Longxiang?
Manufacturing and exporting experience for over 20 years. ISO 9001 approved
Products are supplied to over 50 countries.
One-stop service for aluminum profiles, plastic parts, rubber parts, and moulds. Save time and save money for you.
In-house mold design and building capabilities.
No reclaimed material used to ensure high quality.                                           
Keep secret to your idea and your design.
24 hours (two shifts) /Â 6 days for production.
Professional design team, mold maker engineer. OEM/ODM service.
Professional QC and R&D teams to assure high quality.
Professional sales team. Good English capabilities and communication skills.
No MOQ.
Prompt delivery. For prototype: 3-7 days. Production orders can be arranged specially to meet customer's urgent demands.
Geographical advantages: within 30 minutes to airport or sea port, near to Hongkong.

Contact Us

 
Ph: 0086-13570392519
Fax:Â Â 0086-020-29869896
www.longxiang-ltd.com
Factory Address: No.96-1 Qixin Road, Dongchong Town, Nansha District, Guangzhou, Guangdong,  China, 511453.

 
Heat Resistance Ptfecoated Kevlar Fabric,Anti-Corroison High Stength Ballistic Kevlar Fabric,Bulletproof Kevlar Aramid Fabric For Sale
Adhesive tape Co., Ltd. , http://www.nbadhesivetape.com