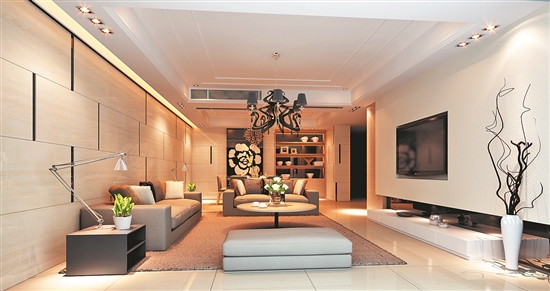 Milan Fashion Week, which leads the world in fashion, kicked off in late February, and designers used their work to interpret the popular elements of the season. In fact, not only in the fashion world, the fashion trend of home design is changing every year.
The Paris Home Furnishings Expo, which displays the latest developments in the international decoration industry and predicts future trends, will always attract the attention of global home improvement designers and is also a popular trend indicator for global home trends. In 2016, what are the trends in home design, let's take a look.
Decoration design trend decoding a natural manufacturing
The so-called natural manufacturing, that is, inspiration from nature, showing the beauty of natural texture. The marble clothing design at the 2015 Milan Autumn and Winter Fashion Show has surprised people from all walks of life, and the marble pattern in the home industry has also become a focus of attention.
Marble texture is not only limited to the use of marble tiles. Many furniture surfaces can be decorated with marble lines. In addition to imitation of textures for decoration, the texture of imitation marble in home design has become a major feature. For example, the design of the teacup, abandoning the transparency of the glass material, imitating the coarse grain of the stone, pursuing the marble-like solidity.
Designer Interpretation: The release of fashion trends is always exaggerated, just like the costumes on the T stage, there is no way to wear them directly in life. Therefore, we must also know how to choose for home design. The theme of "Natural Manufacturing" is to display natural textures. In addition to the natural texture of marble, there are many textures in nature, such as water ripples, animal and plant markings.
The home decoration design should be based on comfort. The marble wall can be highlighted by the tile design background wall, but it should not be used in a large area. After all, the stone texture creates a cold texture and is not suitable for daily home life.
Decoration design trend decoding two
Minimalism
Minimalist actually pursues simplicity but not simple ideas. The most classic expression of this style is a small and beautiful Japanese courtyard, pursuing a lonely and distant mood. In the field of home decoration design, Japanese style and Nordic style are considered to be representative of minimalism, especially in the performance of furniture, with various primary colors, straight lines, simple, cotton and linen, focusing on accommodating and hiding unnecessary things. At the same time, do not abandon the functionality used.
Designer Interpretation: Minimalism is more suitable for small units. Small units are not suitable for designing many shapes during decoration, but should try to keep the interior transparent and have a strong storage function, which coincides with minimalism. Try to create straight lines when designing, and the wall lights can be hidden inside the wall. When purchasing furniture, attention is paid to the combination of functions, such as a bed that can be folded and stored in a wall, and a cabinet with multifunctional storage.
Decoration design trend decoding three
Traditional Chinese elements
Speaking of traditional Chinese elements, it is not just the color of red and green, or the accumulation of intrinsic elements such as Chinese knots and golden dragons. It is a reflection of the gentleness and exquisiteness of Chinese culture through elements, demonstrating the confidence and embarrassment of contemporary China. . Especially in the Chinese gardens, the techniques used for borrowing, view and shifting, as well as the techniques used in Chinese calligraphy, can be applied to home design.
Designer Interpretation: The use of traditional Chinese elements is not simply a Chinese style of decoration, nor is it possible to buy a set of Chinese furniture. The Chinese elements referred to here are more reflected in the collocation. For example, a simple clay pot can be a Chinese element when inserted into a plum blossom. Even if it is matched with a modern home, it is not obvious, so the Chinese element plays a role in finishing the touch, applying principles. It is an embellishment, not a large area.
Source: Xianghe Furniture City official website http://
Electric Hydraulic Operating Table
Electric Hydraulic Operating Table
1. Import hydraulic system
2. Memory sponge mattress
3. Electric Longitudinal displacement ≥350mm
4. Tabletop is X-ray available
5. Optional Carbon fiber bed panel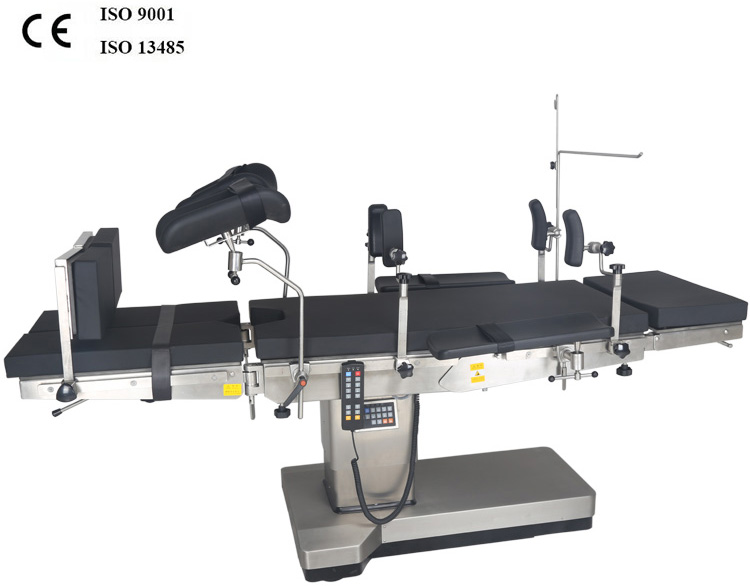 The Hydraulic system adopts imported integrated type components, imported motor and solenoid valve, stable performance.
The operating table uses wired mini touch controller.
Pillar base cover all 304 stainless steel, anticorrosion, easy to clean and durable.
Taiwan stainless steel structure, easy to use, safe and stable.
Accessories are removable.
The Multi function medical operating table is suitable for comprehensive surgical operations like thoracic surgery, abdominal surgery, brain
surgery, eye surgery, ENT, gynaecology and obstetrics, urology surgery, orthopedics surgery and other general purpose.
More Images: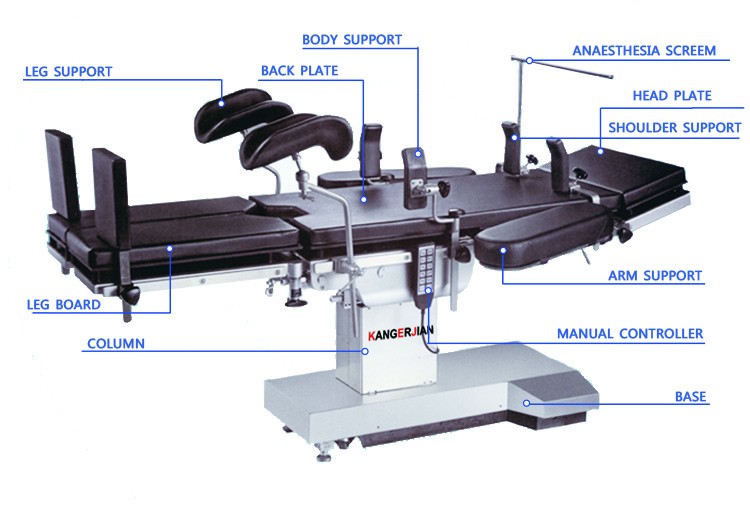 The brief medical operating table without accessories installed on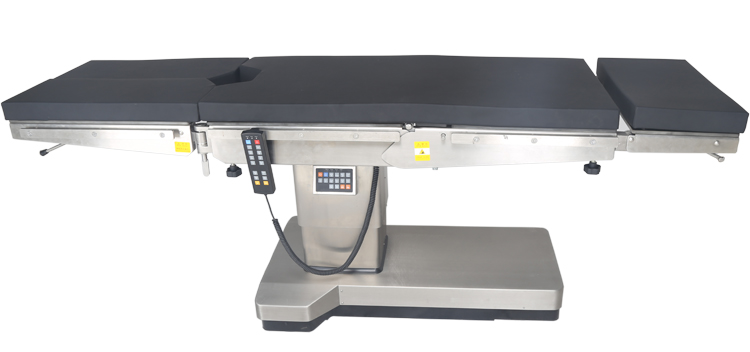 The whole set surgical operation table with all related Accessories intalled on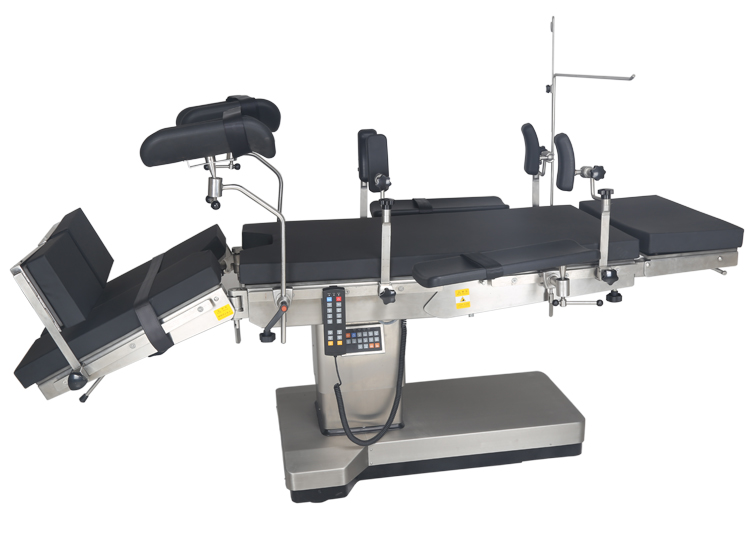 Certificates:

Certificates of CE, ISO9001, ISO13485 and CFDA are approved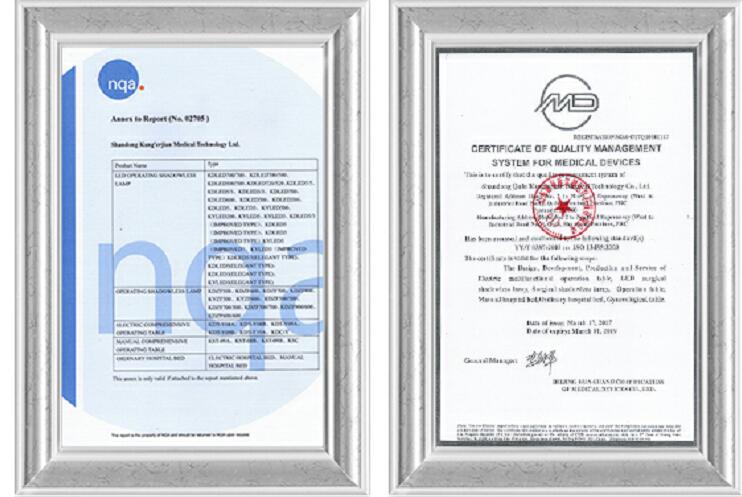 Company:


Shangdong province is the main machinery production base in China.
KANGERJIAN Medical Technology Co., Ltd. is a group of senior lighting design expert and machinery manufacturing expert company with 20years experience and factory locating in the east city--the hometown of confucius--Qufu in Shandong province, China.
The Company has passed the ISO:9001:2008 quality system certification, ISO13485:2003 quality system certification, CE certification and CFDA certification, so that the enterprise management standards and product quality is relatively connected to expand the international market for enterprises to lay the foundation.
Our main products: Operation Theatre Lights, Operating Room Lights, Double Dome Halogen Operating Light, Single Dome Halogen Operating Light, LED Operating Light , Surgical Operating Led Light, Mobile Type Operating Light, Gynecology Examination Tables, Obstetric Delivery Bed, Electrical Gynecological Table, Obstetric Delivery Table , Delivery Examination Table, Electric Hydraulic Operating Table, Electric Medical Operating Table, Manual Electric Operating Table , Surgical Table, Operating Table, Operating Theatre Pendants, icu tower crane in ICU room, LED Viewbox etc. professional medical equipment.
The quality of casting by me, the market led by me! Excellent from professional, KANGERJIAN people lead the new trend of medical equipment.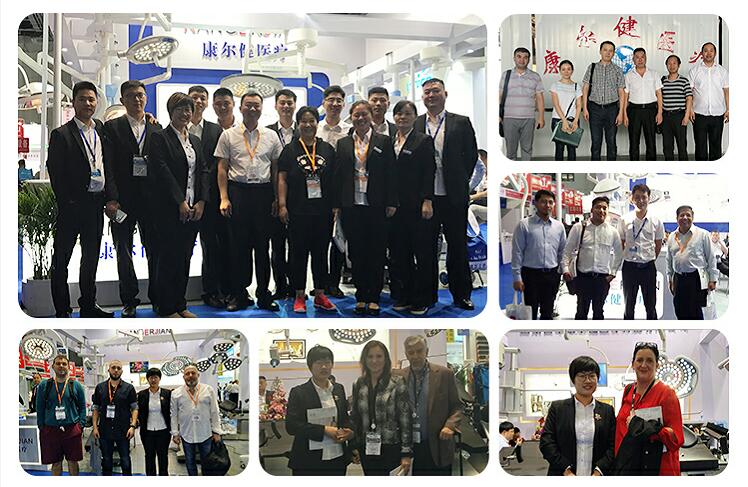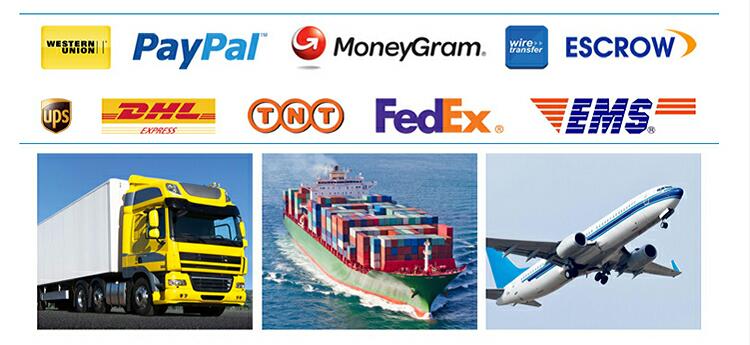 Electric Hydraulic Operating Table,Electric Hydraulic Operating Bed,Hospital Electric Hydraulic Medical Table,Hydraulic Pressure Operation Bed
Shandong qufu healthyou Medical Technology co.,Ltd , https://www.kangerjian-medical.com