As a global leader in thermal analysis technology, METTLER TOLEDO has decades of R & D and application experience in the field of thermal analysis. With the advent of new technologies and products, the market has been expanded on a large scale, and the user group has continued to grow The scope is deeper.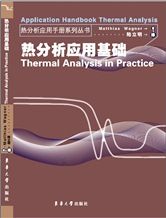 The free gift of "Thermal Analysis Application Basics" begins!
In order to meet the needs of the majority of thermal analysis workers and related professional scientific and technical personnel for the knowledge of thermal analysis basics and applications, the technical staff of METTLER TOLEDO's Swiss headquarters and METTLER TOLEDO (China) company carefully designed and Compiled "Thermal Analysis Application Manual Series", "Thermal Analysis Application Basics" is an important part of this series, the system fully introduces the basic principles and measurement methods of various thermal analysis methods, such as DSC, TGA, TMA, DMA , Thermo-optic analysis, TGA / MS and TGA / FTIR combined technology definition, principle and application, as well as sample preparation, data processing and expression, and focused on the description of vitrification, binary phase diagram, purity determination, polymorphism, Adsorption analysis; also from the thermal analysis experimental methods, conditions (parameters) selection to the evaluation system, the implementation plan has developed a number of steps. Finally, various thermal analysis standards developed by international organizations such as ISO and ICTAC are attached.
To thank users in China for their long-term support for METTLER TOLEDO's thermal analysis business, the company will hold a free gift of new books, a total of 200 "Basic Thermal Analysis Application" waiting for you to lead!
Gift time: from now until May 31, 2011;
The scope of gifts: existing users of METTLER TOLEDO thermal analysis (users who have purchased MT thermal analysis instruments);
Gift principle: Each company can only receive one gift, and it will be given up within the gift time;
Teachers and experts, do n't miss the opportunity. If you are interested, please click on the registration application and we will mail it to you later.
"Thermal Analysis Application Manual Series" includes several volumes. In addition to this book, "Thermal Analysis Application Basics", "Thermoplastic Polymer", "Thermosetting Resin", "Elastomer", and "Outgas Analysis" have also been published , All major bookstores and websites have sales, looking forward to your more attention!
Abs Travel Luggage,Trolley Luggage,Hardshell Spinner Luggage,Abs Pc Zip Luggage
Yongxin Juanhua Leather & Bags Co., Ltd , https://www.luggagegld.com